Passenger Endorsement Test - CDL Passenger Test
The Passenger Endorsement Test is required for drivers who will be operating vehicles such as buses, taxis, service buses (handicap buses, factory buses, church buses, etc.), limousines, airport shuttles and the like. In order to obtain a passenger endorsement, it is necessary to pass the CDL General Knowledge Test and the CDL Passenger Test. In the event the vehicle has air brakes it will also be necessary to pass the Air Brakes Endorsement Test. All of our practice tests can help you to pass the actual DMV tests in these areas.
Bus drivers must have a commercial driver's license with a passenger endorsement in order to operate a vehicle which seats 16 or more, including the driver. This endorsement requires that you pass a Knowledge test covering Sections 2 and 4 of the DMV's CDL manual. For those who will be operating a vehicle with air brakes, this testing will also cover Section 5. A Skills Test specific to the type of vehicle you will be driving is also required.
Choose Your Free Passenger Endorsement Test Below:
CDL Passenger Practice Test 01
Don't hesitate to take advantage of our free CDL passenger test in each category specific to your needs.
CDL Passenger Practice Test 02
To drive a passenger vehicle you are required to have CDL passenger endorsement. Try our practice test and pass the exam the first time.
Taking the Passenger Endorsement Test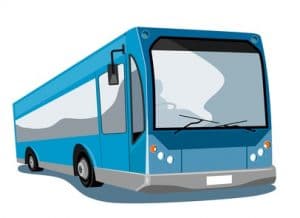 Another requirement for receiving this kind of license is passing a written test. This test will also cover a wide range of topics and subject matter including questions that related to driving a church bus, school bus, limousine, handicap bus, factory bus, school bus or the like. So, each person must be familiar enough with the subject matter in order to pass these exams. Passing these written test can be made easy since there are a several different types of practice test options available online that people can make their selections from. This type of passenger endorsement test has been designed to increase the person's odds of passing the exam whenever they take their exam. So, they can be great options for people who will need the extra help.
People who are interested in driving a vehicle with passengers need to obtain their CDL license with a P endorsement. The requirements for this kind of endorsement usually vary fron one state to the next. So, it is important for people to do their homework well in advance so that they will know exactly what requirements must be met before they receive the appropriate license.
This CDL Passenger Test Covers:
Vehicle Inspection
Loading
On the Road
After-Trip Vehicle Inspection
Prohibited Practices
Use of Brake-Door Interlocks
Our practice tests for all endorsements related to obtaining your commercial driver's license and each variant thereof are generated in the same manner as the actual tests administered by the Department of Motor Vehicles. The test questions are randomly selected from a database containing hundreds of questions. This guarantees that the same practice test will never be administered twice.