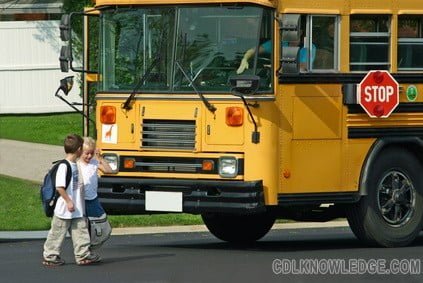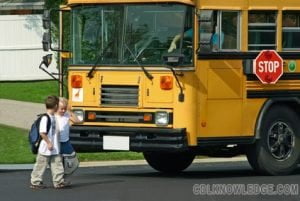 In all states, the only common requirement for becoming a school bus driver is to have a Commercial Driver's License (CDL). Check with your state for the minimum age at which you can apply for one. Typically, it's 18 if you will be driving within the state and 21 if you will be driving between states. Your prospective employer may have different minimum age requirements for hiring, however. Being of retirement age is not inevitably a barrier to employment. In some states (California is one), a qualified person 65 or older can be a school bus driver. Some employers require previous experience while others do not.
Though the Federal Motor Carrier Safety Administration (FMCSA) makes the laws commercial drivers must follow and, therefore, guides the content of all training programs, the approaches to training differ by state. Prospective candidates for the CDL who want to get a job as a school bus driver should check with their state and local governments to learn the requirements.
Pennsylvania and Tennessee, for instance, are two states that require the candidate to get a commercial driver's license learner's permit while other states don't require one. Not only are there different classes of commercial vehicle driver's licenses, but there are also different endorsements (comparable to certifications) that drivers must have depending on the type and use of the vehicle they will drive.
The Department of Transportation (DOT) requires all drivers of commercial vehicles to have an alcohol and drug test before they're hired and to be randomly tested after being hired. Generally speaking, candidates for school bus driver jobs should have no arrests. Also, they must have no history of child abuse and must be fingerprinted. Since they should be in good health, training programs and employers require that they have a physical exam.
Where to get training and its cost
Mainly, local school districts or their subcontractors do the CDL training for the drivers they hire. Sometimes, a company will hire school bus drivers and then pay most if not all of the cost of their training. Other prospective employers expect the candidate to have a CDL. The cost of CDL training ranges from about $2,000 to $3,000. Privately held, for-profit schools also offer this training.
What's on the CDL test?
The CDL test is a combined knowledge (written) and skills (hands-on) test. In the written part, the candidate for the license for a school bus driver answers questions about transporting passengers including loading and unloading students safely, how air brakes work, safe driving, etc.
Since an important part of the school bus driver's job is managing students, CDL training makes drivers knowledgeable about bullying, how to get aid for ill students, how to respond to students who have disabilities (blindness or low vision, deafness or hearing impairments, autism, confinement to a wheelchair, Attention Deficit Hyperactivity Disorder (ADHD), traumatic brain injury, speech impairments, etc.) and other subjects.
Among the areas covered on the skills test are doing a safety inspection of the brakes, which are usually air brakes; demonstrating the ability to drive the bus; and demonstrating the ability to perform preventive maintenance.
Employment forecast
Hiring by elementary, middle, and high schools will continue to grow modestly, according to the federal government.
Salary and months of employment
Mainly, school bus drivers work part-time and just during the school year. However, drivers working for a daycare center typically work all year. Annual salaries range from about $21,000 to $41,000, although some school bus drivers earn more and some earn less. School bus drivers in Alaska, Washington, New York, California, and Nevada earned the highest salaries, according to 2011 statistics by the Bureau of Labor Statistics (BLS). And the large cities where school bus drivers were highest paid were the San Francisco-San Mateo-Redwood City area of California, Philadelphia, New Bedford, Massachusetts, and Peoria, Illinois.
Where to apply?
Contact school districts, private schools, daycare centers, and school bus contractors. Also, look at newspaper ads and do Internet searches.