Driving a school bus is one of the most demanding jobs where you have to be extra vigilant whenever you're behind the wheel. Suffice to say, it's not just about yourself but the lives of children are in your hands and you can't afford to make silly mistakes. No doubt, the CDL class B road test for a school bus will test you to the limits, and if the examiner gets even a sniff that you're not ready, you will get an instant fail.
So what to do if you want to pass? Simple, it's no rocket science, you just know what to expect on CDL school bus road test. So let's get down to it.
The Pre-Inspection Test
For the first part of the test, the examiner expects you to do a safety inspection test and deduce if all the identified parts are in perfect condition. That means you have to pay attention to your words. For instance, if you're looking at the mirrors, you ought to say "Not cracked, broken or damaged". Please note that the wording can change depending on the inspection parts; for something like a fire extinguisher you have to say "rated, dated and charged".
Anyway, the pre-inspection test will take around 1 hour to complete and there is no specific order for the test. The examiner can ask you to inspect any part. However, for the sake of simplicity, expect to inspect the engine, mirrors, lights, suspension system, tires, brakes, entrance door, emergency doors, windows, DEF tank, stickers, stop arm, battery box, body fluid clean up kit, first aid kit, fire extinguisher, reflective triangles, airbags and seats. In summary, all the parts of a school bus that are visible. Don't worry, you don't have to crawl under the bus or climb to the roof.
Beyond that, expect to do a safe start to analyze the dashboard readings such as the speedometer, odometer, oil gauge, DEF gauge, tachometer, water temperature gauge, transmission, brake pressure gauge, and voltmeter. As if that's not enough, you will also be required to test the indicators, horn, lights, reverse beeper, gear shift, air condition system, dome lights, stop sign extension and door button. Of course, you will do a brake test too.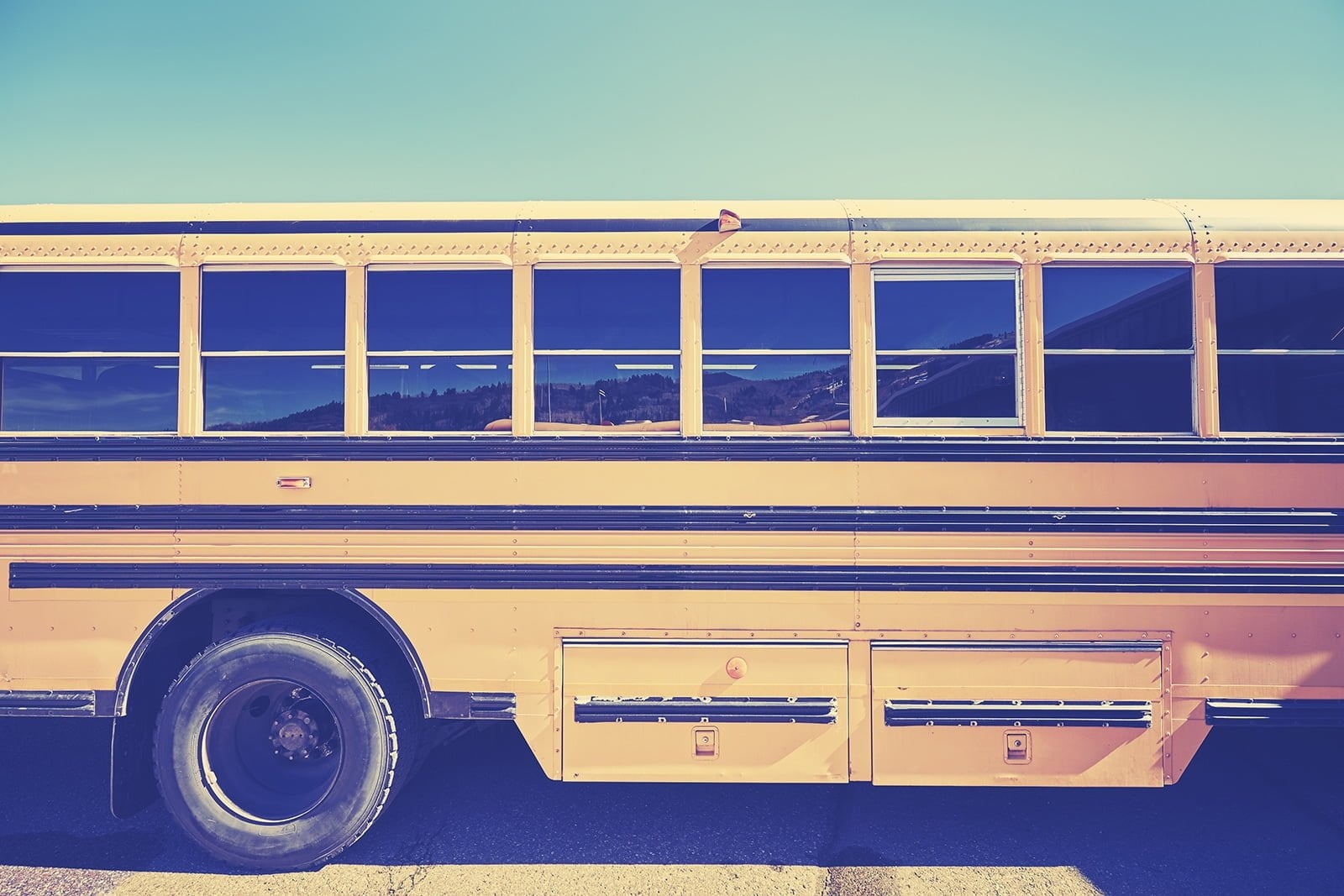 The Skills Test
The next stage after the pre-inspection is the skills test where your backing up skills are thoroughly scrutinized. To your advantage, a school bus is easier to reverse and park than a trailer truck because there are many mirrors to help you out. Nevertheless, there is usually a huge blind spot at the back of the bus and you have to make sure you don't hit any cones or objects.
To succeed the skills tests, you must demonstrate to the examiner that you can perform parallel parking, offset backing, straight-line backing and alley docking. Remember, you can pull up to get a better view without the examiner deducting your points. Moreover, you can also put the bus in neutral brakes, apply the parking brakes, open the door and walk out but don't walk more than three steps away from the bus when making sure you didn't hit any cones.
However, you can do one pull up and outside vehicle observation when performing straight line backing but for the rest of the parking maneuvers, you're allowed to do both pull up and outside vehicle observation twice.
The Driving Test
The road test is your final day of reckoning but expect to be scrutinized on different standards than other CDL candidates. In other words, the examiner will watch closely to see if you follow all the safety procedures set out for school bus drivers.
For instance, when you approach a railway crossing, what should you do? If you forget to stop at the right side of the road at around 15 to 50 feet away from the rails and open the door and windows to observe and listen closely for any signs of an oncoming train before you proceed, the examiner will fail you. Also, you should activate the hazard lights at least 100 feet before the tracks.
Besides that, there is no way the test will end without the examiner asking you to demonstrate how to do a student pick up and drop off. Since there will be no real students during the road test, some examiners may require you to explain verbally what you should do during the procedure. It could be something like "I'm going to nod to the students that it is safe to cross, open the door and count all the students as they board the bus blah blah blah". Do you get the picture?
Obviously, the rest of the road test will be the examiner instructing you to follow specific directions like "go here, go there, make a right, turn left, and go straight". Sometimes, the examiner may ask you to interpret a road sign.
Parting Shot
Whether you fail or pass the CDL class B school bus road test depends on how many mistakes you make. Of course, there are some silly mistakes like not stopping before a railway line or over speeding that can get anybody an instant fail. However, under normal circumstances, you should pass the test as long as you don't make too many red flag blunders.
It must be emphasized; the examiner is not trying to fail you but rather trying to test your competency. As a school bus driver, you should meet the highest quality standards since you will be in charge of students' safety.
Once you pass the school bus road test, you will be issued a receipt and wait for at least 7 days before your regular driving license is amended (School Bus Endorsement) to match your CDL eligibility.