School Bus Test - School Bus Endorsement
Per Federal regulations, a School Bus Endorsement is required for any driver who operates a school bus containing passengers. The exception is mechanics who may need to drive an empty bus in the course of servicing the vehicle. The School Bus Endorsement is required only for those who will be operating the bus with passengers aboard.
It is necessary for drivers to have a passenger endorsement prior to obtaining a school bus endorsement, or both may be applied for at the same time.
Choose Your Free School Bus Test Below:
School Bus Endorsement Test 01
To drive a school bus you are required to have their CDL School Business endorsement by passing school bus test.
School Bus Endorsement Test 02
To drive a school bus you are required to have a school bus endorsement. Try our school bus test and pass the first time.
How to apply for the School Bus endorsement and Taking a Written School Bus Test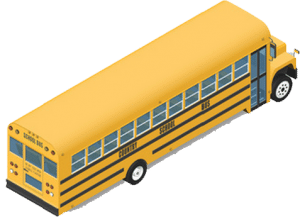 Applying for this type of license can be done in at least one of two ways, again based on specific state requirements. People can apply online or in person at their state's DMV Office. The choice is left up to the individual. It is also important to note that there is quite a bit of information online that can assist people with taking the written test. These resources can be found online in the form of taking the right kind of School Bus endorsement practice test. There is a cost to many of these tests so people should be prepared to pay for the extra guidance that they are receiving.
Preparing to drive a school bus does not have to be a difficult task if the person knows what they should do to complete this kind of process. Therefore, it is important for people to start in advance identifying what steps need to be taken in order to complete the entire process. From getting a CDL S learner's permit to paying for the cost of getting the license, there are some things that must be done before the individual can drive a school bus.
This school bus endorsement practice test covers:
Danger Zones and Use of Mirrors
Loading and Unloading
Emergency Exit and Evacuation
Railroad-Highway Grade Crossings
Student Management
Antilock Braking Systems
Special Safety Considerations
Our practice tests for all endorsements related to obtaining your commercial driver's license and each variant thereof are generated in the same manner as the actual tests administered by the Department of Motor Vehicles. The test questions are randomly selected from a database containing hundreds of questions. This guarantees that the same practice test will never be administered twice.