Taking and passing your CDL written test is a rite of passage. The Commercial Driver's Manual contains valuable information you'll need to continuously review, but it may feel overwhelming to work through all the pages.
Approach studying the way you would any other test. Use notecards to make a quick study guide for the important takeaways, and use a highlighter for quick skimming and re-reading before your test to ensure your brain absorbed the proper details. Here are five critical exam day tips to speed along your success to passing your CDL written test:
Tip 1: Read Your Drivers Handbook Again
You have probably stared at the handbook so long it looks like it might talk back to you. If only!
Take your CDL handbook section by section, preferably in the weeks leading up to your CDL written test day. Use the week before to conduct more concentrated study sessions still broken down into sections and topics. Ask family and friends to quiz you on your quick study guide. Makes notes of strengths and areas for improvement with your studies. Read your drivers handbook again.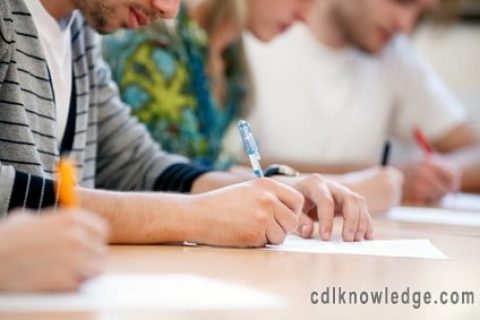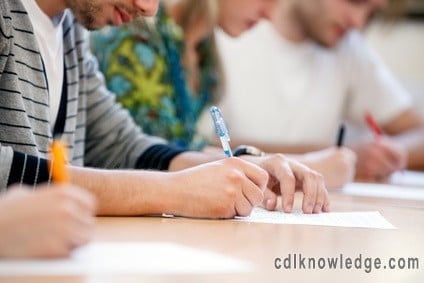 Tip 2: Revisit Road Signs and Use the Real World
When the words of paragraphs start blending together, revisit and study the road signs. Do you know what each sign shape stands for? Which are caution signs? Which are railroad signs? You can worry about memorizing speed limits in cities and rural areas later.
Road signs are the perfect visual break your eyes need while still studying. As you pass by signs on the road, especially on test day, look closely at the details and remind yourself which signs means what.
Use the real world to practice the knowledge you've gained from the handbook, such as speed limits and following distance.
Tip 3: Use Practice Tests to Learn Where You Stand
You may fear that if you take a practice test you'll fail and feel even more worried about passing on exam day. You don't have anything to lose by taking CDL practice test because they let you know where you stand. The more you take them, the more confident and informed you will feel.
Tip 4: Give Yourself a Break to Properly Relax
Take appropriate mental and physical breaks as you study, and check with yourself emotionally to offset stress symptoms. Eat a balanced meal for dinner and for breakfast. Hydrate properly. Get enough sleep. If you can't sleep well, take a power nap for 90 minutes before you leave because a nap is just as good as cramming before the test. With a 90-minute nap, you'll cycle through REM and are likely to recall more information. Wake up early to look over your notes, but take a break before you leave to clear your mind and nerves.
It doesn't hurt to check with friends to see when the busy test days are, so you can go in on a less busy day. A smaller crowd may make you feel more comfortable before taking the CDL written test. On the other hand, a busy office provides you with more opportunity to quickly skim over areas you need to feel more confident about.
Tip 5: Use Test Taking Strategies Wisely
Use creative memorization strategies, such as creating a song, to recall difficult information on your test. Read questions carefully, and use logic to rule out each selection. Narrow down the choices to two answers, and then choose the one that makes the most sense. You'll have more confidence in your answer.
Most of all, stay calm. Don't watch the clock. Take a moment to look away from the test and at the wall. Breathe. Think of the blank wall as a separate sheet of paper where you can display a mental image of the handbook on the wall, if you're a visual learner, or make it a space to practice a moment of mindful breathing and overcome the onset of nerves.
Use these five critical exam tips to pass your CDL written test. You'll read and re-read your handbook multiple times and feel overwhelmed, but don't get discouraged! With a regular study schedule and proper breaks, you'll pass your written exam and be road-ready. For more test-taking tips and practice information, contact us.