CDL Pre Trip Test | Pre Trip Inspection Test
A CDL Pre Trip test ensures that the driver is knowledgeable in the area of the main safety points of the vehicle. The driver should be able to walk around the vehicle, visually inspect it, check various safety components and explain to the test administrator each part, it's function, and how and why it should be safety checked. Drivers should touch each part as they inspect it and explain it so that the test administrator knows exactly which part of the vehicle the driver is referring to.
The Pre Trip Inspection Test is one of the more difficult parts of the CDL exam due to the amount of memorization involved and the extreme importance of knowing each and every part and each safety point implicitly. However, it is absolutely necessary in order to ensure the safety of the driver and the other passengers on the road.
Choose Your Free Pre Trip Inspection Test Below:
CDL Pre Trip Test 01
This free Pre Trip Inspection Test will examine your knowledge of internal inspection and external inspection.
CDL Pre Trip Test 02
We have all of the 2019 CDL pre trip inspection test questions and answers for you to use and study for free while you prepare.
Tips to Pass Your CDL Pre Trip Test on the First Try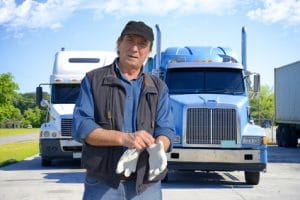 Passing your written Pre Trip Inspection Test doesn't have to be a stressful experience, nor is it something that needs to take multiple attempts before you succeed. Here are a few basic tips that can help you to pass the written driving test on your first attempt.
1. Get advice from previous test-takers
If you know anyone who has taken this test before, it's a good idea to ask for general tips and advice. They won't be able to tell you exactly what questions will be on the test but what they can do is give you some basic advice to help you better know how to approach certain types of questions on this test in order to do as well as you possibly can.
2. Don't Cram
Cramming for your test the night before is a terrible idea. You should start studying for the test as far in advance as you can to avoid needing to cram. If you try to cram for this test, you will be likely to forget as much as you remember. Start studying ASAP to ensure you are effectively prepared and that there is no need to cram.
3. Get a good night's sleep
As is the case with most tests, you need to get at least seven hours of sleep the night before your test so that you will be refreshed and well-rested on the day of your test. Attempting to test when you haven't slept long enough can be as bad as cramming for your test the night before, so avoid this at all costs.
4. Relax
Once you have reached the evening before your test, stop studying. At that point, you've prepared as much as you can and trying to study more will be detrimental to your performance. More than that, though, you need to take some time to relax and do something other than just studying so that you aren't wound up or stressed out when the time comes to take your test.
5. Take the test early in the day
While you don't necessarily have to take this test the first thing in the morning, it's a good idea to take it as early as possible so that you can take it before you've done a load of other things in the day. It is an extremely good idea to be fresh and focused when you take the test.
For more information on passing this test on your first try and to get some helpful practice tests, contact us today.
The Pre Trip Inspection practice test questions will seem repetitive because they are. They are worded differently and asked more than once and in more than one way in order to make certain that you do in fact know the correct answers and have adequate knowledge of how to perform a pre-trip vehicle inspection. In order to fully prepare you, our practice tests follow the same format, asking the same questions in a different manner.