Guide to Driving a Truck with a Passenger
Truckers must comply with certain guidelines when transporting passengers in their CMVs. Navigating these regulations can be complex, but understanding them is essential for driver and passenger safety. In this blog post, we will explore the passenger regulations for commercial motor vehicles (CMVs) as governed by the Federal Motor Carrier Safety Administration (FMCSA), including exceptions and specific scenarios.
We will begin by discussing who can ride in a CMV and under what circumstances. This includes examining exceptions to the general rules and exploring specific scenarios where passengers may or may not be permitted.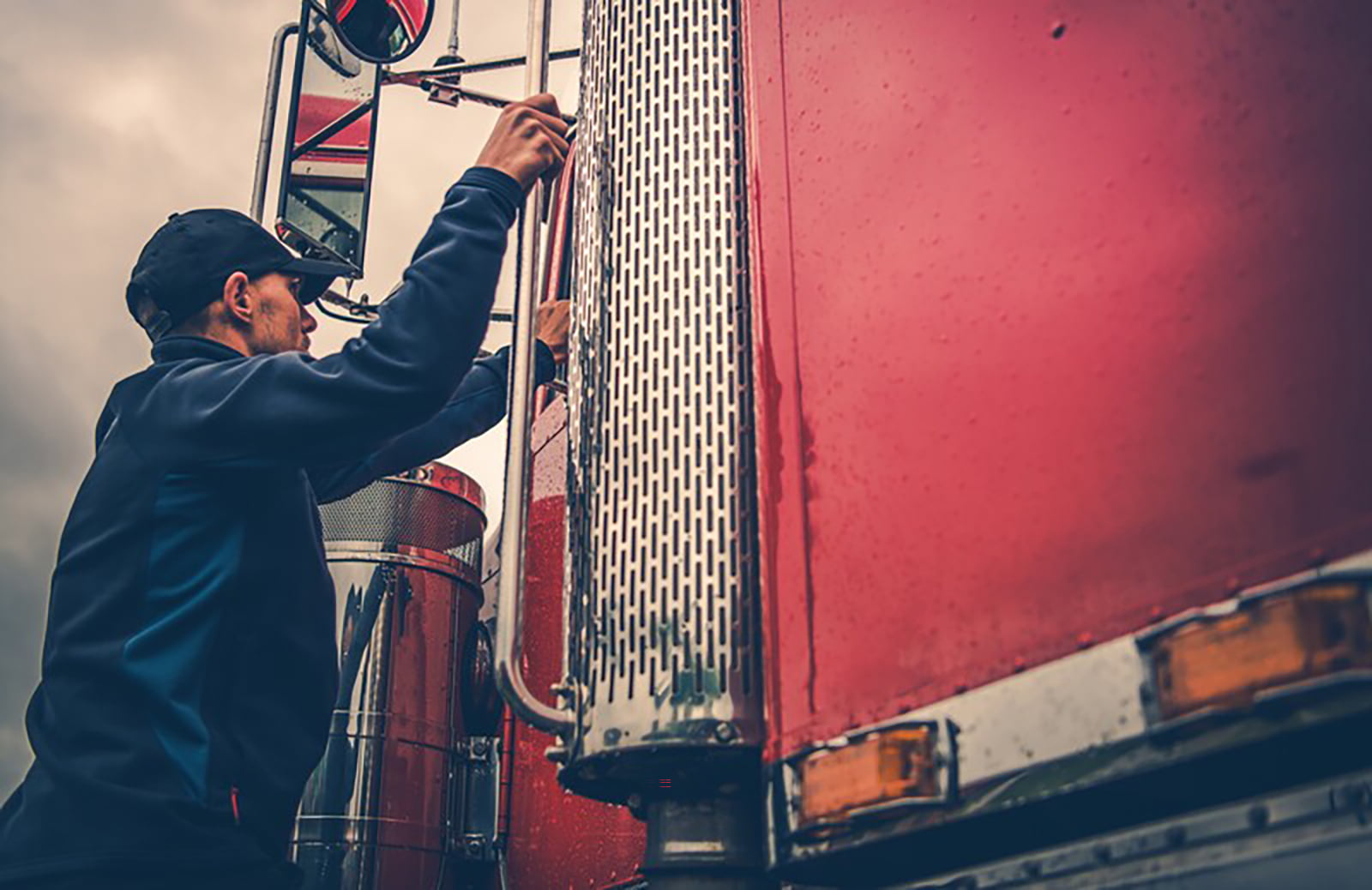 Next, we'll cover crucial safety requirements that must be met when carrying passengers in a CMV. You'll gain valuable insights into these important guidelines, from seatbelts and age restrictions to additional precautions necessary for ensuring a safe journey.
Moving forward, we will outline driver responsibilities related to carrying passengers on board their vehicle – touching upon training qualifications, maintenance requirements, and insurance coverage considerations.
Lastly, we will discuss potential penalties associated with violating passenger regulations within the trucking industry – including criminal and civil consequences – before providing tips on how drivers can prepare themselves for safely transporting passengers according to FMCSA guidelines.
By gaining an in-depth understanding of "Passengers: what are the rules for truck drivers?" professionals within this field can ensure compliance with federal regulations while prioritizing safety at all times.
Table of Contents:
Who Can Ride in a Commercial Vehicle?
Passengers Allowed by Law:
Commercial vehicles are generally allowed to transport passengers, but the rules and regulations vary from state to state. Typically, a bus or van with room for over fifteen persons (including the operator) can be used as a vehicle to transport passengers. Box trucks and tractor-trailers may be utilized as passenger-carrying vehicles in some scenarios.
Passengers Not Allowed by Law:
In most cases, commercial vehicles are not allowed to carry passengers unrelated to the driver or the business purpose of the trip. Family members of drivers who lack a DMV-issued license or permit are prohibited from boarding commercial vehicles. It also includes non-paying riders riding along for any reason other than work-related purposes.
There are some exceptions when it comes to carrying passengers in commercial vehicles; these include emergencies and medical transports where no alternative transportation is available. Additionally, some states allow minors under 18 years old accompanied by an adult guardian on board certain buses with special permits from their local DMV office.
Strict regulations are rigorously applied to guarantee the security of all parties involved in riding a commercial vehicle. Additional safety requirements must be met when allowing passengers into a commercial vehicle to protect them further.
What Are the Safety Requirements for Passengers?
Riders of commercial vehicles must abide by safety protocols to safeguard themselves and other drivers. Seatbelts and other restraints must always be used while riding in a commercial vehicle. All riders must be buckled up, no matter their age or size. If available, lap belts should also be used in addition to shoulder harnesses. Children under 12 should not ride in the front seat unless restrained adequately with an appropriate child restraint system, such as a booster or car seat.
Age restrictions also apply when carrying passengers in a commercial vehicle. Passengers under 18 may not ride in areas lacking safety features such as rollover bars or airbags, including flatbeds and trailers with no roof. Additionally, anyone under 21 may not operate any motorized vehicle while transporting passengers on public roads or highways without obtaining a valid driver's license from their state Department of motor vehicles (DMV).
Drivers should always inspect their vehicles before embarking on trips for potential hazards, such as loose objects that could injure riders if left unchecked before departure time. Additionally, all passengers should remain seated during transit and refrain from standing up inside the cab or cargo area; this can create an unstable center of gravity that could lead to an accident if everyone does not take proper care.
Riders should know the safety regulations while on a large transport and guarantee that they are always securely fastened. Drivers have an even greater responsibility to maintain their vehicles, obtain proper insurance coverage for passengers, and possess the necessary qualifications before allowing any passengers on board.
Key Takeaway: Commercial vehicle passengers must always follow safety regulations, including using seatbelts and other restraints. Furthermore, age restrictions are in place for anyone under 18 riding without appropriate child restraint systems or those below 21 driving the motorized vehicles on public roads. Drivers should also inspect their vehicles prior to trips for any potential hazards that could endanger riders.
What Are the Driver's Responsibilities When Carrying Passengers?
Drivers of commercial vehicles must take steps to guarantee the security and welfare of their customers. This includes training, vehicle maintenance, and insurance coverage.
Driver Training and Qualifications:
All drivers must meet the requirements set forth by their state or jurisdiction to be legally allowed to drive a commercial vehicle with passengers. These qualifications include passing written tests, obtaining a valid license, completing an approved driver's education course, having a clean driving record for at least three years before applying for licensure, and more. Drivers must remain informed of any changes in legislation that may impact them as professional drivers.
Driver responsibility includes performing regular maintenance and inspections on their vehicle before each trip, such as examining brakes, tires, lights/signals, mirrors/windows/doors/locksets (if applicable), suspension system components (springs & shocks), steering mechanisms (steering wheel & linkage), exhaust systems (muffler & tailpipe) fuel lines & tanks, etc., checking fluid levels like oil and coolant regularly, etc., ensuring seatbelts are in working order, etc. Drivers should also keep an accurate log of all servicing done on the vehicle, including dates when it was serviced last, along with other details like mileage readings taken at time intervals for added diligence. 
Failing to observe the regulations when transporting passengers can lead to stringent consequences. Consider the consequences of not adhering to these regulations when transporting passengers.
Key Takeaway: As a professional driver, it is my obligation to guarantee the protection of travelers by keeping up and routinely investigating the vehicle, checking liquid levels and guaranteeing safety belts are operational. I must also keep up with current regulations while keeping an accurate log book that records all servicing done on the truck along with mileage readings taken at regular intervals.
What Are the Penalties for Violating Passenger Regulations?
Criminal Penalties:
Violations of passenger regulations can result in criminal penalties. A driver may be liable for financial punishments or imprisonment depending on the offense. For example, if a driver fails to secure an appropriate restraint system for their child passenger, they may be subject to civil and criminal penalties such as fines or jail time. Drivers convicted of knowingly transporting unauthorized individuals may be subject to severe consequences, such as felony charges, significant financial penalties, and potential incarceration.
Civil penalties for violating passenger regulations typically involve monetary damages awarded to injured parties or their families in cases involving wrongful death or injury due to negligence on behalf of the driver. If negligence is found on the part of a driver when transporting passengers, they can be held responsible for any harm or damage inflicted upon them. In addition, civil penalties may include revocation or suspension of commercial driving privileges and punitive damages depending on the circumstances surrounding each case.
Violating passenger regulations can have serious consequences, both criminal and civil. Hence, truck drivers should be well-informed of the applicable laws and regulations concerning passengers to protect themselves and their riders. To help prepare for carrying passengers, drivers should consider taking a safety training course or creating a pre-trip inspection checklist.
How Can Drivers Prepare for Carrying Passengers?
Drivers who carry passengers must be aware of the laws and regulations that govern their behavior. Knowledge of these laws is essential for safety and compliance. Drivers should acquaint themselves with state-specific rules about carrying passengers, such as seatbelt use, age limits, insurance coverage mandates, and other relevant regulations. Additionally, drivers should take a safety training course designed to carry passengers in commercial vehicles. This type will provide detailed instructions on safely operating a vehicle while transporting people, including defensive driving techniques and emergency response procedures. Finally, drivers must develop a checklist they can follow before each trip to ensure the vehicle is safe and ready for travel. Items on this list may include checking fluid levels; inspecting tires; verifying lights are working correctly; providing all safety equipment is present (e.g., fire extinguisher); and confirming no loose items inside the cab or cargo area; testing brakes; etc. Following these steps every time you drive will help ensure your passengers arrive at their destination safely – legally, and responsibly.
FAQs 
Can I be a passenger in a truck?
No, you cannot be a passenger in a truck. Transportation of passengers in large commercial vehicles such as trucks and buses is illegal due to safety concerns. To legally drive commercial vehicles such as trucks and buses, drivers must obtain licenses and certifications from the DMV and adhere to certain driving hours regulations. Drivers must observe certain regulations about how long they can drive in a day or week when using large commercial vehicles like trucks and buses for business purposes. Passengers are not allowed on board while the vehicle operates for business purposes.
Can local truck drivers have passengers?
No, local truck drivers are not allowed to have passengers. FMCSA mandates that CMV operators abide by the safety regulations in 49 CFR Part 392 and 393, which strictly forbid taking on paying passengers while driving a commercial motor vehicle. FMCSA may impose civil sanctions, and states could potentially bring criminal charges (including fines or imprisonment) against those who disregard the rules prohibiting transporting passengers for pay while driving a commercial motor vehicle.
Can truck drivers travel with their families?
Yes, truck drivers can travel with their families. The FMCSA permits CMV operators to accompany their immediate family members in the truck. At the same time, they drive as long as it does not hinder the vehicle's safe operation. Drivers must ensure that passengers follow all applicable safety rules and regulations for CMVs, such as wearing a seatbelt and remaining seated during vehicle movement. Moreover, drivers must ensure passengers do not divert their attention from the road while operating a CMV.
What is a rider policy in trucking?
A rider policy in trucking is a set of guidelines that outlines the rules and regulations for passengers riding in commercial trucks. A rider policy typically includes regulations regarding who can ride, when they're allowed to join the driver on a journey, where they may be situated in the vehicle, and what safety gear is necessary (if any). The policy may also specify the type of vehicle being driven and how many people it can safely accommodate at one time. All drivers should familiarize themselves with their company's rider policies before allowing someone to join them on a trip.
Conclusion
Understanding the regulations concerning transporting passengers is vital for truck drivers. Knowing who can ride in a commercial vehicle, what safety requirements must be met, and driver responsibilities are all key elements of carrying passengers safely. Drivers should also know the penalties for violating passenger regulations to avoid them at all costs. Before setting out, drivers should know the latest laws and regulations concerning passengers to be better prepared for any eventuality.
Become an expert truck driver by taking our CDL practice test and learning the tips for driving large vehicles. Get your license today and start your career in commercial transportation!
Sources:
https://www.motorbiscuit.com/truck-drivers-have-passengers/
https://truckergoods.com/having-passengers-in-commercial-semi-trucks-what-truck-drivers-need-to-know/
https://www.fleetowner.com/news/regulations/article/21692385/truck-passengers-fmcsa-wants-you-to-buckle-up-too