Did you know that at least 60 percent of U.S truck drivers are pet owners? In fact, 40 percent of those truck drivers take their pets along with them on the road. Most truck drivers who tag along with a dog or a cat have attested that they are more alert on the road and punctual on meals and sleeping time. Not to forget pets making driving fun since they are loving, friendly, loyal and they will make you smile one of those bad days. The FMCSA don't have any regulations restricting truck driving with pets as long as safety is not comprised. However, there are factors that you must consider before getting that pet in the truck.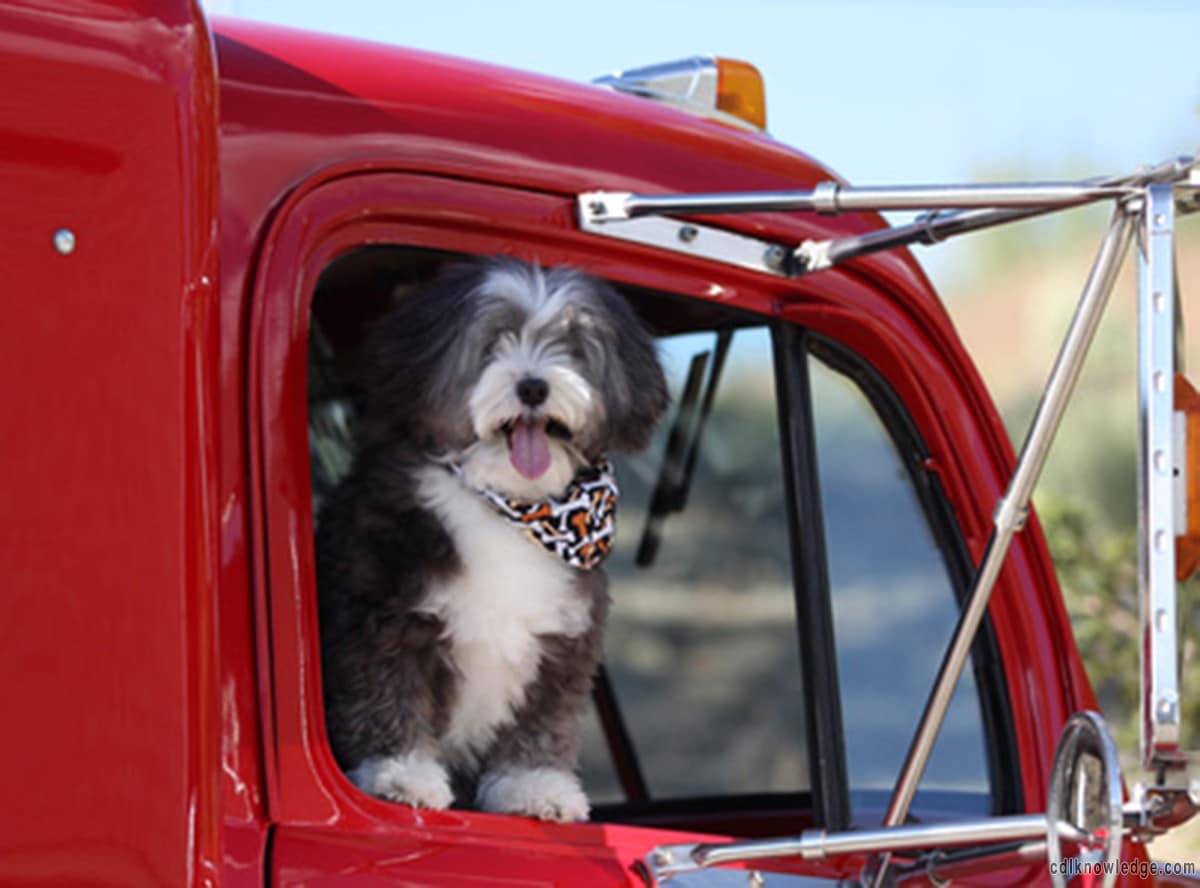 [su_heading style="modern-1-orange" size="18″ align="left"]Company Policy[/su_heading]
Not all trucking companies allow the drivers to tag along their pets. For example, companies that usually transport refrigerated freight have a no pet policy. Nevertheless, trucking companies that allows pets have their own unique pet policies that must be adhered. There are trucking companies that only allow drivers to bring their pets if they pay a deposit that normally ranges between $250 to $1000. The deposit can be refundable or non-refundable but the purpose is to refund any damages that might be caused by your pet. Just remember to double-check your pet company policies if you are serious about truck driving with your pet.
[su_heading style="modern-1-orange" size="18″ align="left"]Safety precautions[/su_heading]
 Make sure your pet is fully vaccinated and checked up by the veterinarian on a routine basis. Don't forget to carry the health records for your pet since most states will require proof of vaccination and any other relevant documentation. Usually, a truck driver requires a CVI or a health certificate signed by a USDA accredited veterinarian. A leash or a restraint will be helpful because your pet will be exposed to new sounds and sights on the road and like all pets, they love to explore. The leash should also come with a tag that includes necessary information such as your contacts in case your pet gets lost. If you want to make it easier to track down your pet in case of a separation, a micro-chipped collar will do the trick. In case of an emergency, keep a list of supply and veterinarian centers along your route.
[su_heading style="modern-1-orange" size="18″ align="left"]Special needs for your pet[/su_heading]
Different pets have different special needs depending on the type. A cat and a dog are 2 perfect examples. Matter fact, cats and dogs are the most popular pets among truckers. Although, there are truck drivers who tag along with rodents, snakes and birds. A litter box is essential especially if you have a cat but you need to regularly clean it to avoid the odor. Even cleaning is not efficient without a proper ventilation system like a fan or opening the windows for fresh air once in a while. Of course a variety of air fresheners will help the situation if your pet gets too messy. Always carry fresh food and water for your pet more often during the summer to avoid dehydration. A comfy bed or a resting crate in the truck should also be readily available for your pet. Playing fetch up or jogging around with your dog to break up the monotony of long-distance driving is not only beneficial to the pet but also the truck driver.
[su_heading style="modern-1-orange" size="18″ align="left"]Type of Pet[/su_heading]
Not all pets were made to live life on the road. There are pets that can ride on a truck but it would be too inconvenient for you. Usually, large breed of dogs can take up too much space in the cabin making the room uncomfortable for both the driver and the dog. Dogs that weigh 25 pounds and below are the most convenient since they have less demands compared to the large type of dog breeds. That is why some trucking companies allow pets but limit the maximum weight of the pet you can drive with. Furthermore, it is not advisable to bring along more than 1 pet on the road since it would make your job split between too many responsibilities.
Truck driving with your favorite pet is what most truckers definitely would love to do but always make sure safety comes first. If you are fresh out of CDL School, wait at least 6 months until you attempt to drive with your pet. That way, you will do a proper assessment to know what it will take while still familiarizing yourself with the job. Even if you have the most well behaved pet on the planet, block off access to the driving area especially the wheels and the pedals. Once you know the basics of truck driving with your pet, life on the road will be less lonely and more interesting with your best friend.