The DAC report or otherwise known as Drive-A-Check is like a report card for CDL drivers that detail their employment history, driving history, criminal background, license verification, reasons for leaving and DOT physical results. Just like a credit report to the consumer, DAC report says a lot about CDL drivers. In fact, at least 90% of medium to large commercial trucking companies refer to DAC reports whenever they are hiring truck drivers. If you are unfortunate to have your DAC report full of negative entries, it is quite likely most prospective trucking companies will not open the door for you whenever you are looking for a job.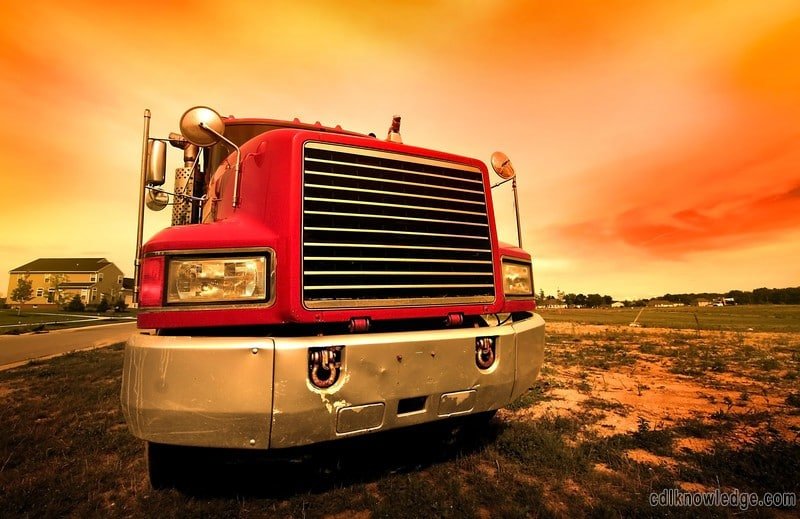 Experience is an added advantage in the trucking industry, yet your mistakes or bad luck on the job will likely show up on your DAC report. Most truckers don't really stress about the MVR on the DAC report but on what their former employers have reported. Truck drivers have reported many cases of their former companies reporting inaccurate information especially if the relationship ended on a bad note. For instance, most disgruntled dispatchers have a habit of reporting an abandoned truck or damaged equipments despite returning the truck to the terminal with the equipments in good condition. Hence, false information is the biggest loophole of the DAC report.
[su_heading style="modern-1-orange" size="18″ align="left"]What is on your DAC Report? [/su_heading]
Your DAC Report includes the following details filled up by your previous employer:
License number plus additional info such as endorsement and restrictions.
Name of the employer.
Address of the employer.
Date the report was submitted by the employer.
Name, social security number and date of birth of the driver.
Employment performance by the driver.
Types of trailers and freight hauled.
Timeframe of employment.
Reason for leaving.
Rehire eligibility. 
[su_heading style="modern-1-orange" size="18″ align="left"]How are DAC Reports Coordinated?[/su_heading]
HireRight is the company behind the database for DAC reports. As a matter of fact, HireRight employment library contains the records of more than 6 million drivers across the country with a reference of at least 2500 carriers. The information on the report normally covers a time span of 10 years. However, HireRight is legally obliged as a background info provider to adhere to the rules of Fair Credit Reporting Act. Basically, commercial drivers are protected by the U.S government through FCRA to prevent inaccurate report. For instance, HireRight was recently ordered to pay $2.6 million for violating the Fair Credit Reporting Act. The lawsuit was brought up by the Federal Trade Commission (FTC) and Department of Justice in the interest of the public. It should be noted that FTC treats DAC reports in the same manner as consumer credit report. Although FTC is not involved in individual follow-ups, it assists in detecting serious patterns of foul play which can be investigated and prosecuted. Hence, whenever you are filing a DAC dispute, don't forget to fill up the complaint assistance form offered online by FTC.
[su_heading style="modern-1-orange" size="18″ align="left"]How can you dispute your DAC report?[/su_heading]
Every CDL driver has a right to dispute any false or incomplete information on their DAC report. If you notice a discrepancy, you can contact HireRight and file a DAC report dispute online at no cost. The dispute investigation process usually takes an average of 30 days. Legal protection and remedies arising from false information are handled by the Federal Trade Commission. Of course, to know if there is incorrect or missing information, you have to check your DAC report at least once per year which you are entitled to receive for free once every year. However, additional copies of your DAC report will cost $9.50 each. It is important to keep yourself updated since filing a dispute requires drivers to have a copy of their report not older than 60 days. Of course, there are exceptions when it comes to the law but it would be much easier to follow up and dispute a recent report than outdated information.
[su_heading style="modern-1-orange" size="18″ align="left"]Challenges of DAC Report[/su_heading]
Gone are the old days of truck driving where you could get away with a bad record for months if not years. Now things have changed and everything is done online within a few minutes. Your work history and background is not a secret anymore whenever you apply for a job at a medium to large trucking company. It is that black and white, plain and simple. If your information does not correspond to what is on your DAC report, your potential employer is going to ask you why. The biggest complaint from truck drivers is that trucking companies often get away with giving out inaccurate information that is used on DAC Report. The burden of proof is on the driver and not on the trucking companies. If you notice false information on your DAC Report, how will you prove it is false? Unfortunately, the chances of proving the information on your DAC Report are false is very slim. Sometimes the legal cover and remedies offered by the Federal Trade Commission do not work out. That is why most truck drivers let it slide rather than go against multi-million dollar trucking companies with a lot of influence. Nevertheless, prevention is better than cure and there are various pre-cautions to be taken. For instance, negotiating a contract that will allow you to record and backup instructions from your dispatcher.