If you are passionate about travelling and also want to earn a decent living from it, commercial driving is one of the best alternatives for you. A truck driver with a clean record can have as much as a six digit annual income. It is not only a good paying job but the industry is also growing at a very high rate. In addition to field's general growth because of booming American economy, this industry has also expanded more than others due to high attrition rate. Many drivers who obtained their license in the early 1970s have either retired or are planning to do so in near future. To replace these drivers, the opportunities for new drivers are at all-time high. According to the Bureau of Labor Statistics data, the number of driving jobs is expected to increase up to 21% by 2020. So this makes the commercial driving industry an ideal opportunity to begin your career with.
But not everyone can enter this industry easily. In order to drive commercial vehicles you must be having a Commercial Driver's License (CDL). The CDL ensures that the drivers are trained and qualified enough to drive high capacity commercial vehicles. Such vehicles include:
Vehicles weighing 26,001 pounds, or 10,001 pounds with any type of trailer towed,
Transporting quantities of hazardous materialsthat require warning placards under Department of Transportation regulations
Designed to transport 16 or more passengers (including driver) or
More than 8 passengers (including the driver), for compensation.
The CDL is issued by Department of Transportation (DoT). The rules and regulations for obtaining a CDL vary from state to state, however to get a CDL there are certain basic requirements that an applicant must full fill. The minimum age to obtain an intra-state CDL is 18 years while for an inter-state CDL you have to be atleast 21 years old. Apart from it the candidate will need to qualify a vision test, physical examination, drug test and two CDL examinations, one written test to check the knowledge of a driver about laws and regulations relating to safe operation of the vehicle and other road test which examines the candidates' practical skills of driving.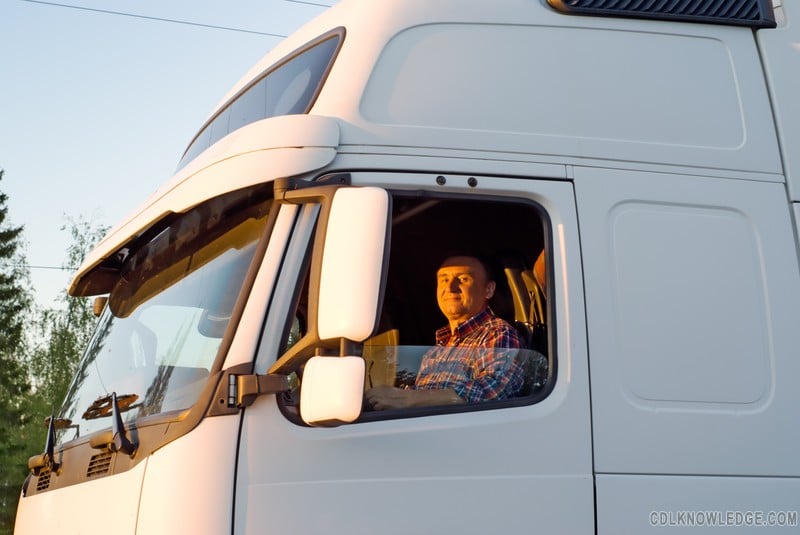 There are different schools and institutions which provide formal training to students and help them obtain a CDL. Such institutes provide specialized training to students which will help them pass the CDL exams and operate the vehicle better. Skills such as how to read a map, avoidance of skid, backing, turning and hooking of trailer are imparted to potential truckers. The training provided differ from school to school and also depends upon the class of CDL the candidate is preparing for. According to guidelines issued by DoT, there are three different classes of CDL depending upon the type of vehicle to be operated, drivers not falling under class A, B and C will come under class D, non-commercial drivers.
Class A: Combination vehicles with a gross combination weight rating (GCWR) of 26,001 or more pounds, provided the GVWR of the vehicle(s) being towed is greater than 10,000 pounds. Drivers with a Class A license may, with the proper endorsements, operate vehicles requiring a Class B, C or D license.
Class B– Single vehicles with a GVWR of 26,001 or more pounds, or any such vehicle towing a vehicle 10,000 pounds GVWR or less. A driver with a Class B license may, with the proper endorsements, operate vehicles requiring a Class C or D license.
Class C– Vehicles with a GVWR or GCWR less than 26,001 pounds. Class C is strictly for vehicles designed to carry 16 or more people (including the driver), or carrying hazardous materials requiring the vehicle to display placards. A driver with a Class C license may also operate vehicles requiring a Class D license.
Along with CDL, there are also some endorsements required in order to drive certain types of vehicles:
P: Passenger Transport (buses carrying 16 or more persons, vans for hire carrying 11 or more persons in California)
H: Hazardous Materials (requires a TSA background check as well as an extensive written exam. The driver must be a US Citizen or permanent lawful resident to obtain an H or X endorsement.)
M: Metal coil
N: Tank Vehicles (Required for carrying liquids in bulk.)
T: Double/Triple Trailers (Road trains) (Class A licenses only.)
X: Hazardous Materials and Tank Combination
L: Air Brakes
S: School Bus (In addition to a standard bus endorsement, more stringent TSA and CORI background checks are required.)
CDL exemptions:
Some exemptions are also provided in some states to operate commercial vehicles. For example, in Idaho, exemptions like emergency vehicle, recreational vehicle and military vehicle provided even if the vehicle comes under commercial vehicle class.
While choosing school for CDL training one must ensure the accreditation, tuition fee, course structure and employability of the school/institution. Many private institutions also offer placement assistance and financial support. Some institutions work with certain employers and provide training on their behalf where some or all of the fee of training are paid by the employer. The student reimburses the employer during a period of employment as a driver. This may be an option for students who wish to avoid up-front payment, but students should understand the legal and financial implications of this type of training.